| | | |
| --- | --- | --- |
| | | |
In the past
Omani hospitality:
Men wear the Omani khanjar for most of the day. It is considered part of the uniform of the day, even during prayers. It is only taken off when the man goes to sleep. Such is the merit and dignity of the man who is proud of their Omani heritage, and who is accompanied by the Omani khanjar outfit in all occasions. Hospitality in Oman has a distinctive character. Visitors to Oman households identify generosity and authenticity in Omani traditional attire and the community considers those who receive guests in their home without wearing it as a kind of negligence towards the guest.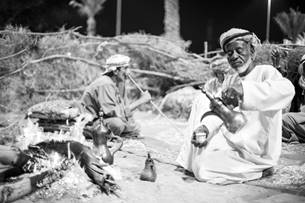 Omani men pour coffee for his guest
Celebrations of religious holidays and social events:
Each nation has its own way of celebrating its festivals that reflect the legacy, traditions and history of the people. This is reflected in Omani holidays and social events such as celebrations and weddings that are expressed through traditional arts. Omani men and women wear traditional fashions as a manifestation of joy and celebration. Men wear the Omani khanjar for both prestige and the expression of joy.
Held in the days leading up to Eid Al Fitir and Eid Al Adha (Religious Holidays) are markets that are popular and locally known as Al Habtah or Al Hilqah. Al Hilqah means people gathered in the vicinity of a large circle. Al Habtah means flocked people from all regions and villages.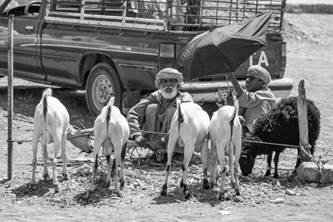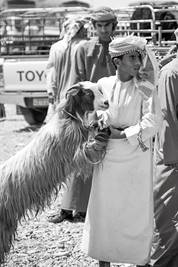 Omani men sell goats for Eid
Omani boy sell goat for Eid
Social events such as weddings and engagements locally known as Malkah are celebrated like all other festive occasions. Host of these occasions would honour their guests with Omani meals. As hosts, men, women and children would all wear Omani costumes. Omani men would have the khanjar and women would wear various jewellery. Keen parents would get their sons to wear a belt with a silver piece in the front at the waist so that they can get used to wearing the Khanjar when they grow up.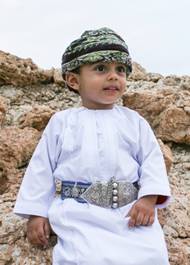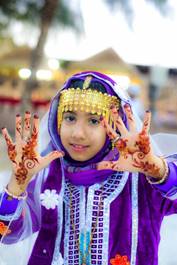 Omani boy wearing belt
Omani girl wearing gold for the celebration
Travelling throughout Oman:
The regions in the Sultanate of Oman are of varied topography. There are towering mountains and most famous is Gibal Al Hajar. There are caves, deserts, sand dunes and picturesque bays, which vary throughout the territory of Oman. Due to the diversity of the terrain Omani people travel using camels, horses and donkeys, or they might even walk if necessary in some cases. According to individual ability, people might move day and night in summer or winter, defying all circumstances and sometimes continuing for days or weeks or even months.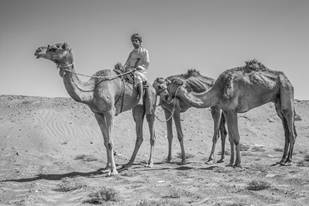 Omani men riding camel
Wars:
During conflicts and wars in Oman whether internal or external, the Omanis have been keen to control the castles and forts and equip themselves in terms of weapons and various supplies. In cases where wars continued for a long time, they were also keen to secure safe places for the women and children. Each castle or fortress had small fortifications that included many small houses used by families and also included extensions called 'facilities benefit' or Falaj, foods and weapons stores. The khanjar served as an indispensable basic weapons.
The khanjar was used in times of war when the either one of the assigned spear and sword was lost.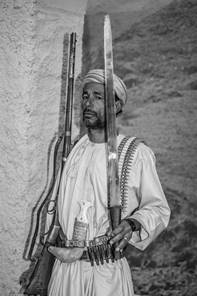 Omani man armed
© Khanjar.om All rights reserved.